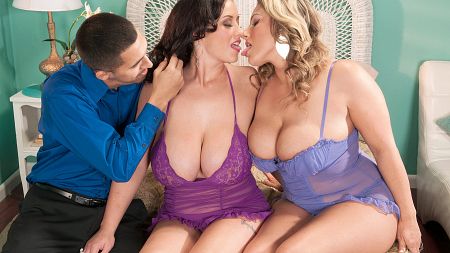 "I get to fucky-fucky with my friend," said Eva Notty, sitting on the bed next to her BBF (Big-Boobed Friend) Sarah Satori. Yes, Eva has brought her girlfriend as a thoughtful gift. Sarah has big tits, too. Birds of a feather, you know. "Hopefully I get to sucky-sucky too," Sarah added. "Not hopefully," corrected Eva. "You'd better." "You'd better share, you little cock-goblin," Sarah replied.

SCORE's editor Dave was naturally inquisitive about this dynamic duo. "There will be tit-sucking. Pussy-sucking," the girls explained in unison. "A woman knows what a woman wants," Eva said. And what does Eva want? "She wants her pussy licked," Sarah replied. "She likes her clit sucked a little bit too." Eva demonstrates the technique using Sarah's forefinger. They will head south to snatch-land shortly. Attention turns to their big hooters. Together and separately, they cause major distractions wherever they go. "She almost caused a car accident in San Francisco," said Sarah.

While these two horny, fun-loving sex kittens wait for the sausage in their girl sandwich, Eva licks Sarah's pussy, then they 69, Eva on top. As they 69, Mr. Shaft arrives. Eva is ready and begins to suck him off while Sarah continues to lick Eva's pussy. The "fucky-fucky" starts; one man, two women--and what women! The #1 male fantasy. Eva's extra-prepared. She's even brought along her strap-on to fuck Sarah with while she's being fucked from behind. Our question is: who slept on the wet spot?