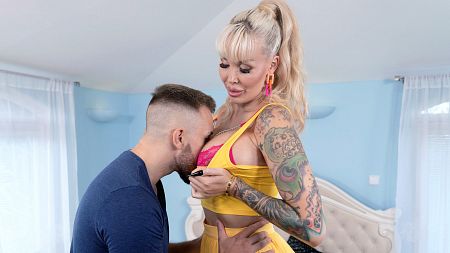 Towering and statuesque Blondie Bombshell is horny and feeling the urge to merge. She needs a cock injection and a tongue lashing. She calls for her in-house stud Jason to come service her.

Jason is shorter than the Amazonian Blondie who's well over six feet in her stripper heels. That works out well for Jason since his head is in line with Blondie's big tits. He's already got a boner for Blondie and buries his face between her breasts while she pulls on his dick.

Blondie wants a licking so Jason puts his head under her dress to tongue her pussy. His pussy tasting drives Blondie wild and she screams with pleasure. Jason alternates between Blondie's tits and her pussy, licking and sucking her pierced nipples and clit.

Blondie wants to continue playing with his dick on her bed. Jason lies back so Blondie can tug his cock, run her long fingernails over his body and play with her boobs. She sits on his chest and tells him to lick her clit, riding his face. Warmed up and ready to get fucked by her boy toy, Blondie gets on her hands and knees, eager for Jason to pound her from behind.