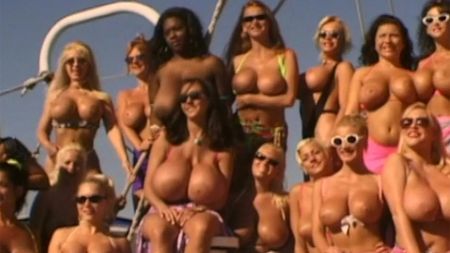 Shot in 1998, this video focused on the 4th and biggest of the five Boob Cruise voyages in the Caribbean. SCORE's 30th Anniversary special video series wraps up with Boob Cruisin' Again. Maybe one day the Boob Cruise will sail again.

"There was a wonderful mellow soul to the '98 Cruise, and by the second day, staff and veteran Boob Cruisers alike had noticed it," TSG founder John Fox wrote in his foreword to the 164-page double issue of November '98 SCORE magazine.

The model roster was huge in 1998. Our sailmates were Adele Stephens, Angel Eyes, Bobbie Wonders, Brittany Andrews, Busty Dusty, Casey James, Connie Kline, Dawn Stone, Deanna Baldwin, Europe DiChan, Heather Hooters, Linsey Dawn, Minka, Nicky Tease, Nicole Tyler, Rachel Rocketts, Roxy Rider, Sana Fey, SaRenna Lee, Skye Blue, Summer Leigh, Sammie Black, Summer Cummings and Vanessa. Never before or since then have so many SCORE Girls assembled in one place.