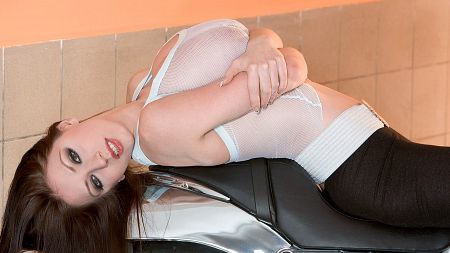 There aren't a lot of girls on bikes at SCORELAND. Over the years, the short list has included Linsey Dawn McKenzie, Christy Marks, Slone Ryder and Chica.

According to the SCORE version of the history of the world, when the U.S.S.R. collapsed in December of 1991, women of the various republics were now free to take off their potato sack swimsuits and get as naked as they wanted to be...girls like Merilyn Sakova.

Ukraine's Merilyn Sakova was a perfectly easy rider on this Harley-Davidson Screamin' Eagle V-Rod. Merilyn dressed like a biker babe for the occasion. Any road warrior would be proud to have her as a back warmer.