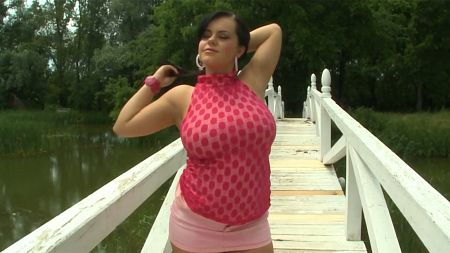 To use a British slang word, Mandy Pearl is a hottie who's a prime piece of "totty," a word based on the Romany word "taati," meaning a girl who's warm.

It's much too warm on this bridge for Mandy to be so covered up and concealed by a heavy top. That top's got to be dropped and fast so we can once again feast our eyeballs on her luscious F-cup tits and sexy bod. That is the toll that must be paid on this bridge.

"Such a beautiful day," says Mandy. Nothing's as beautiful as a busty babe like Mandy. And once again, we owe a SCORE reader, a friend of this busty doll, for recommending us.